Hyndburn-based tech company, Sundown Solutions, and Burnley-based advertising and marketing agency, Scott Dawson Advertising, recently presented to over 240 children, aged from 4 to 13 years, at Stonyhurst St Mary's Hall in Clitheroe about the opportunities available to them in the marketing and cyber industries.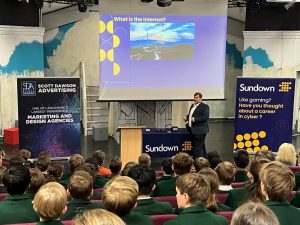 The career's talk, which took place on Monday 16th May at one of the UK's leading co-educational Catholic boarding and day schools, included discussions on the origins of the internet and how to get into the cyber industry, as well as the important role that marketing will play.
Both Sundown Solutions and Scott Dawson Advertising were invited to the school after a member of staff at Stonyhurst, Louise Chambers, came across a Facebook video of Sundown Solutions and fellow Hyndburn business, What More UK, attending All Saints' CE Primary located in Clayton le Moors, organised by Scott Dawson Advertising and #AmazingAccrington.
Set in a magnificent Grade I listed building with a 1,000 acre estate right in the heart of Lancashire's Ribble Valley, Sundown CEO Heath Groves and Scott Dawson MD Murray Dawson, fielded some fantastic questions from the onlooking pupils including what qualifications they would require to work in cyber or marketing.
Mr Groves said: "It's not just about the children getting the qualifications that they need, but it's about businesses like us coming into these schools and telling the children who we are, what we do and that we are available.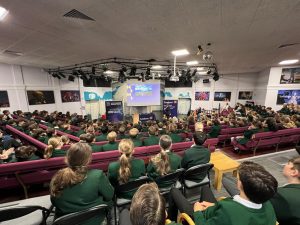 "The response from these children has been amazing. They asked some extremely intellectual and insightful questions and the future of cyber and marketing looks very bright in Lancashire."
Mr Dawson commented: "It has been a real honour to be invited into such a wonderful establishment to raise awareness of what we do and the opportunities which will be available to our young people when they leave school including roles in videography and social media.
"The engagement from the children was outstanding, with a good response to the interactive questions and challenges from all age groups."
Michael Gibson, Deputy Headmaster at Stonyhurst St Mary's Hall, added: "We would like to say a massive thank you to Murray and to Heath for coming in and speaking to the school all about the world of marketing and tech.
"It was a really interesting assembly and we can't thank Sundown Solutions and Scott Dawson Advertising enough for coming in."
Sundown Solutions have been based in Hyndburn since 2003 and provide IT consultancy and management solutions around the world. You can learn more about them and what they do here: https://www.sundownsolutions.com/
Scott Dawson Advertising is a full service marketing and advertising agency based in Burnley, offering a wide range of services including social media, PR, creative design, artwork, direct mail, exhibitions and conferences, copywriting, photography, videography and much more. Head to their website to learn more: https://www.scottdawson.co.uk/