Lancashire town pioneers a 21st century approach to promoting the much-loved traditional market
A traditional and award-winning market at the heart of a Lancashire town is embracing new ways to promote itself, while preserving that all-important personal touch.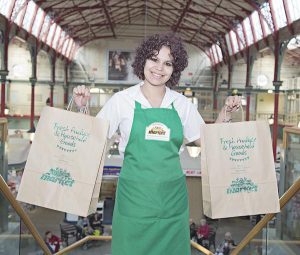 Opened in 1869, Accrington's Victoria Market Hall is one of the finest buildings in the town centre, home to more than 60 kiosks under its dramatically high ceiling, and with more in outdoor pavilions alongside the Market Hall.
A £2m. revamp of the historic Grade II-listed building was completed in 2010, quickly followed by it winning the coveted Britain's Best Indoor Market Award in early 2011.
But it is people who make a market – the friendly traders, their stalls stacked high with quality fresh local produce at value-for-money prices, and their loyal customers, shunning the supermarket shelves in favour of a familiar face and caring personal service.
Accrington could boast plenty of both, and yet the younger generation were not prevalent among the bustling market's regulars. Whether it was down to their busy working lives, the culture of out-of-town superstore shopping, or just not knowing all the market had to offer, there was, literally, a gap in the market.
What it came down to was "marketing the market" to a wider and largely untapped audience, and making its services more accessible to those with 21st century pressures on their time. Enter locally-based marketing specialists Scott Dawson Advertising, bringing a fresh and up-to-the-minute approach to promoting one of Accrington's oldest attractions.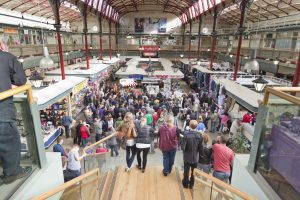 It joined forces with Hyndburn Borough Council in a bold and innovative bid to combine the traditional market experience with the latest promotional tools. The result has been a pioneering pilot project – and a template that could be rolled out to other markets across the UK.
Now Accrington Market has its own website (www.accringtonmarketonline.co.uk); its own dedicated YouTube channel (www.youtube.com/user/accringtonmarket); its own Facebook page (www.facebook.com/accringtonshops); even its own Twitter feed (twitter.com/AccringtonShops).
As well as promoting the market and its various traders, the website allows customers to shop online, choosing a range of products available from its stalls, and even to benefit from a personal shopper, Kirsty Lauder. Options include a "click and collect" service, with Kirsty compiling customers' orders ready  for pre-arranged pickup, or even free delivery within a three-mile radius in a liveried Accrington Markets refrigerated van
Kirsty (23), who works from the Market Hall, is often seen buzzing around the stalls filling customers' orders taken online, by email or phone.
"It's my job to oversee customers' orders from start to finish, from the moment they come in until they end up in the customer's hands," said Kirsty.
"Whether customers call in to quickly collect their order at a time convenient to them, or arrange to have one of our drivers drop it off at their home or business, I can look after that. And if there's something special that customers can't see on the website, chances are I can hunt it out from one of the stalls if they contact me."
There are even special online discounts for customers using the website, with a range of money-saving eCoupons which can be cashed in at the PayPal checkout.
It's all a long way from the days when the only marketing a stallholder could rely on was his own voice bellowing "Get yer strawberries… a pound a punnet!"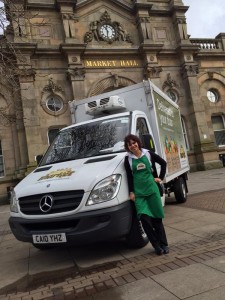 Nine months on from its official launch by Jesse McClure, star of the hit Dave TV show Storage Hunters, the online market is growing steadily, with neighbouring local authorities showing a keen interest.
Murray Dawson, MD of Scott Dawson Advertising, has kept a close eye on the pilot project, his team continually refining, improving and refreshing the model. Murray said:  "Hyndburn Council were very bold and forward thinking in adopting this approach and together we got to work developing a digital and practical solution that builds on all of the fantastic traits of our much-loved market, as well as making them available for the first time to an online audience."
Cllr Clare Cleary, Hyndburn Council's Cabinet Member for Markets, added: "We have a fabulous market housed in a refurbished market hall offering great local produce and goods from friendly stallholders.
"We knew that shopping habits are changing rapidly with more use of online facilities and were keen to capture this to allow more people to experience the fantastic good and services Accrington Market has to offer. We are glad we've taken this new approach and proud that we've moved with the times to make the market more accessible using the latest technology, whilst still offering the same friendly service and warm Lancashire welcome for market customers."